If you would like to join the Yeovil Town Independent Supporters Association, which is the largest YTFC supporters group, then click here, print out the form and send it to the address stated. To see some of YTISA's excellent merchandise click here. All money raised from merchandise is put back into the organisation, also funding substantial donations to the club.
Below, Chairman of the Association Mark Kelly looks forward to the second year of YTISA: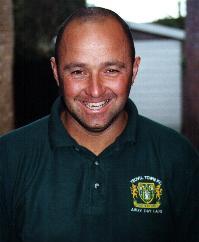 "The Yeovil Town Independent Supporters Association is now approaching its second season with great anticipation. We are hopeful that, after a very successful first season, our membership numbers will increase and make us the most widely used supporters association at Yeovil Town Football Club.
"When we originally founded the association, our aims were to raise funds that could be piled directly back into the cluband provide members with independent travel to away games. We surpassed all our initial expectations and are delighted to report that the association has made donations totalling £1596 since it's foundation in the summer of 1999. We also have a healthy bank balance of £1119.57, which will be used to purchase kit bags and training tops for new players, to match those already supplied to existing squad members.
"Sometime in the not too distant future we hope to arrange a meeting that all members will be invited to, in order to discuss issues surrounding the association and gather members' ideas for future events. It will be an opportunity for members' to be formally introduced to the YTISA committee and to meet other members who may, in time, become regular travel companions.
"At present YTISA take mini-buses to all away games and for games prompting a larger interest a full-sized coach. A good time is usually had by all and members benefit by receiving reduced travel costs. This season a full-size coach will be arranged for all games providing there is enough demand.
"In February 2000, members of YTISA launched a fanzine entitled 'Independent Barmy Army'. This has gone from strength to strength and provides a valuable source of income for the association. We are keen that our members have an input into the fanzine and therefore contributions are welcomed.
"Please feel free to submit any articles to S. Brimble c/o 233 St Johns Road, Yeovil, Somerset BA21 5QR or by Email at ytisa@ytisa.screaming.net. Articles can consist of your views on current issues within the club, or stories telling of your adventures when following Yeovil Town.
"Finally, the committee would like to thank all our members for their support and everyboby else who has given us help and encouragement throughout the season."
Mark Kelly, Chairman, YTISA, 09/07/00.
To contact the YTISA: Email ytisa@ytisa.screaming.net. Write to YTISA, c/o 233 St Johns Road, Yeovil, Somerset BA21 5QR. Tel:(01935) 412236
[Merchandise] [Membership Form]
---
YTISA Constitution
1. NAME
1.1: The name of the association is: "Yeovil Town Independent Supporters Association" (YTISA)
2. OBJECTIVE
2.1: The association shall be the voice of the independent supporters of "Yeovil Town Football Club".
3. MEMBERSHIP
3.1: Membership will commence on 1 August and expire on 31 July annually.
3.2: All Yeovil Town Football Club supporters may apply for membership.
3.3: Application forms can be obtained from:
Any committee member
On the Ciderspace, Up The Glovers or ytfc.com websites
The association fanzine
3.4: Each member will be issued with:
A membership card
An association metal badge
A copy of the YTISA constitution
3.5: Any applicant who is unsuccessful with their application will be informed in writing, with the reasons why they have been refused membership. The applicant will have 14 days to appeal against the refusal, which will be heard by the associations committee.
4. SUBSCRIPTION
4.1: The initial subscription will be £3.00
4.2: Subscription renewal will be £1.50
4.3: The committee will review the amount of subscription annually, informing the AGM of their decision.
5. CESSATION OF MEMBERSHIP
5.1: The committee may terminate the membership of any person that it shall, in its absolute discretion, think fit, but otherwise at the end of each year.
5.2: Any member who has their membership terminated will be informed, in writing, of the reasons for the termination of their membership. The member will have 14 days to appeal against the termination. The appeal will be heard in front of the elected association committee.
6. COMMITTEE
6.1: A committee of four members will be elected annually at the AGM.
6.2: To enable continuity, the posts of Chairman, Secretary and Treasurer will be elected bi-annually.
6.3: All seven members will be the associations representatives and are elected to make decisions as necessary on behalf of the association.
6.4: Minutes of the committe meetings are to be published on the web-sites listed in article 3.3 and made available to any member who requests a copy.
7. MEETINGS
7.1: The AGM of the association shall be held annually in the months of November or December. All members will be informed of the venue when they receive their calling notice.
7.2: Any matters that members wish to discuss at the AGM are to be submitted to the secretary, in writing, by 1 October annually.
7.3: The secretary will be responsible for dispatching the calling notice for the AGM by 15 October. A copy of the statement of account and agenda are to accompany the calling notice.
7.4: This constitution can only be ammended by a vote of the membership at an AGM