Yeovil Town vs Rushden &amp Diamonds
Well, it's the big one. Rushden lead Yeovil by three points and the Glovers have a game in hand. The season could not be more finely poised as we enter the final few games of the season.
| | | | | | |
| --- | --- | --- | --- | --- | --- |
| 1. | Rushden + Diamonds | | 38 | | 76 |
| 2. | Yeovil Town | | 37 | | 73 |
Several weeks ago Yeovil fans probably wouldn't have envisioned the title going down to the wire, but poor form and an excellent run by Rushden have meant that the clash at Huish Park is crucial. As a result a huge crowd, likely to threaten the Conference attendance record, set by Lincoln in 1988, and to destroy the stadium record, set in 1993 for the visit of Arsenal in the FA Cup, is expected. Below are listed the top 5 Conference crowds of all time and also the top 5 Yeovil crowds since the opening of Huish Park in 1990.
Top Crowds at Huish Park:
8612
Arsenal (FAC3)
02/01/93
8101
Cardiff City (FAC3R)
12/01/99
8085
Hereford Utd (FAC2)
05/12/92
8007
Enfield Town(Isth)
25/03/97
6488
Bath City (Conf)
28/12/92
Top Conference Crowds:
9432
Lincoln v Wycombe
87/88
7542
Lincoln v Boston
87/88
7230
Wycombe v Slough
92/93
7221
Colchester v Altrincham
90/91
7193
Colchester v Barrow
91/92
Of course, the reason that the crowd can be so larg is the opening of the new covered terrace at Huish Park. Built partly as a result of the Erection 2000 appeal, for which I had my head shaved, it makes the ground look more complete and is sure to result in a tremendous atmosphere.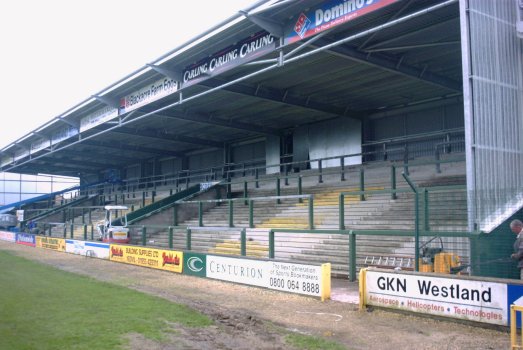 Yeovil and Rushden have met on seven previous occasions. The Glovers are unbeaten in four visits to the luxurious surroundings of Nene Park, including the excellent 2-1 win there in November. In the first two encounters at Huish Park, Rushden came out on top, but that trend was well and truly bucked last season when the Diamonds were spanked 5-1. Wouldn't it be great to see a similar scoreline this season!?