The Famous Yeovil...
The F.A. Cup
Yeovil once beat Sunderland and played Man Utd in front of 81,565 people (a post-war English attendance record, outside of Wembley, don't you know). They also had a very muddy mountain of a sloping pitch which scared the b'jesus out of the opposition. They have also beaten 100's of league teams in the FA Cup. Right, that's the annoying bit out of the way...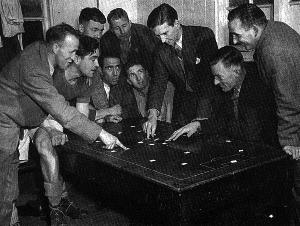 Every time the mighty Glovers, Yeovil Town F.C., have a cup run, out come all the old geezers out of the woodwork going, "I was there", with dewy eyed reminiscences about 29th January 1949 and 'that' match. I wish we could beat another team from the top division so we could have something else for the media to bleat on about - sadly, that's about as likely as Yeovil being voted most attractive town in the UK! That's not to say that Yeovil aren't the greatest giant killers, because they are. The nineties have proved this with victories over Walsall, Torquay, Hereford, Fulham and Northampton - my personal favourite being the Fulham win in 1993 (Andy Wallace's only moment of true glory). In 2000, Yeovil destroyed Colchester and Blackpool to keep the run going. There certainly is something about the FA Cup that drives the Yeovil public wild, people appear from nowhere to watch Yeovil in the FA Cup as demonstrated when 3,000 hardy Somerset men and women travelled to Bolton in January of this year. But I ramble...let's get back to the league.
League form - Patchy at Best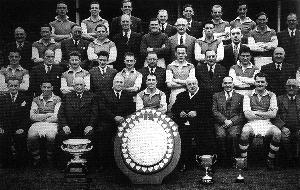 I'm told that before I was born Yeovil were one of the top sides outside the closed shop of the Football League and used to do very well in the Southern League. Indeed, consulting the history books they won it three times - 1955(legue and cup double no less), 1964 and 1971. However, I was born around the time of the advent of the Conference (then the Alliance Premier League) and in that time, until recently, Yeovil have been poor. I started watching Isthmian long-ball stuff under Brian Hall in 1987 (in fact my first game was Mr Hall's first as well - it was 0-0, which kind of set a precedent) and glory came quite soon, FA Cup 3rd Round and Isthmian League and Cup double - the cup final against Hayes, at Basingstoke was excellent unless you were under a wall that collapsed (how's your ankle Badger?). With my tender years I thought Yeovil were like Liverpool. Oh dear!
A couple of average to good seasons in the Conference was followed by a move to a lovely brand spanking new ground - Huish Park. Unfortunately it led to crippling debts, the club nearly went under and so followed five years of terrible struggle apart, that is, from the beacon that is the FA Cup. Relegation back to the Isthmian League followed. This rates as one of the worst 10 days of my life,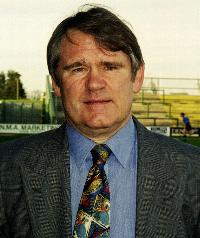 despite the fact that it was a foregone conclusion. The 'charismatic' Graham Roberts deserves credit for returning us to the 'big time' of the Conference, but he sent a dodgy fax to Newcastle and got sacked (it's a long story). Under Colin Lippiatt things went swimmingly. Back in the FA Cup 3rd Round, but more importantly 5th in the league (and top (well 2nd) when he mysteriously 'resigned' in September 1999).
David Webb, of Chelsea fame became manager late last season, clearing out most of the squad and forming an impressive youth policy. This created one of the most exciting Yeovil sides ever seen and the Glovers have become media darlings this season. Webb didn't stick around (Yeovil managers never do) but his legacy and the skills of Colin Addison could see Yeovil attain the 'holy grail' of League football.